WEEK TWO – Ocean, Lake and River Adventure
Location: Bahia Salinas and Lake Arenal, Costa Rica
Dates: February 27th to March 6th 2010 Cost: $2,200 per person plus tax for 7 nights/8 days. Additional nonkiting guests are $1,550 per person plus tax for Week Two. $3,500 per person plus tax to combine Week One (separate attachment with details) and Week Two.
Includes: 5 days of instruction (3 hrs per day), private room in a lux‐ ury villa for 5 nights at Recreo and 2 nights villa accommodations at Lake Arenal.
Accommodations: Private room in a luxury villa with ocean/mountain view and pool; a dedicated chef and maid for your entire stay; premium food package that includes 3 meals a day, snacks tailored to your taste and non alcoholic beverages. Wine and beer will be served with dinner. Cocktails are available for an additional fee.
Locations: Bahia Salinas is the largest bay in Northern Costa Rica. It is also the second windiest area in Costa Rica making it world renowned for wind surfing and kite boarding. Recreo will provide transportation to Bahia Salinas. Equipment is also provided for all beginner groups and clinic participants.
Lake Arenal is famous for its incredibly strong winds. This attracts windsurfers and kite surfers from all over the world. Peak season is December through March. Sometimes it blows every day for weeks on end. From mid November through April the easterly trade winds blowing across the Caribbean are reinforced by the strong northeasterly flow from the Gulf of Mexico. The winds are funneled through the mountains of Northern Costa Rica and reach maximum strength at the western end of the lake. Perfect opportunity to learn to kite board for you or anyone you wish to encourage.
Highlights:
Professional Instructors, designers and experts from all over the world Video and photo analysis during clinic and end of day video critique New 2010 Windwing Equipment available
for demo and use during clinics and lessons.
Itinerary:
Day One Saturday Feb 27: Arrive at Recreo Your adventure begins the moment you arrive in Costa Rica. Your driver will greet you at the airport holding a sign with your name on it, assist you with your luggage, provide you with cold, refreshing beverages, and bring you to Recreo. Upon arriving at Recreo, Ricardo will greet you at the Villa, introduce you to the chef and housekeeper, show you where everything is located, and get you settled in. Enjoy the balance of your day exploring your surroundings.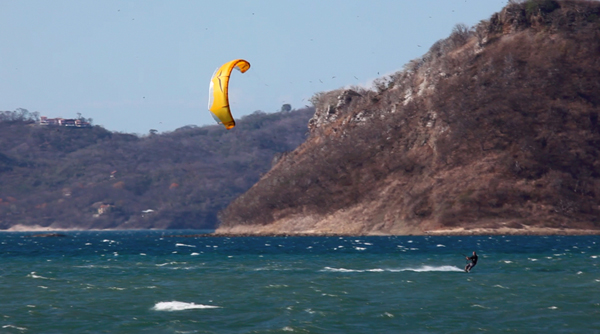 Day Four Tuesday, March 2nd: Adventure! Take a break from kite boarding, but not from adventure! Brave the class I and II rapids of the River, on a two person inflatable canoe. This white water adventure is designed for beginners and those skilled in the sport. After a full day, let your driver do all the work and transport you safely to your villa at Lake Arenal in the Tilaran Mountains just in time for dinner.
Day Five Wednesday, March 3rd: Explore! Visit the most popular spot for kite surfing in Costa Rica, Lake Arenal ~ famous for its incredibly strong winds. This attracts windsurfers and kite surfers from all over the world. After an afternoon of surfing, relax in your mountain retreat near the shores of the lake.
Day Six Thursday, March 4th: Kiteboard and Enjoy Lake Arenal. Your day will begin early with a hearty breakfast and then hit the lake for another day of kite surfing. Head back to Recreo in the late afternoon in time to enjoy dinner in your villa.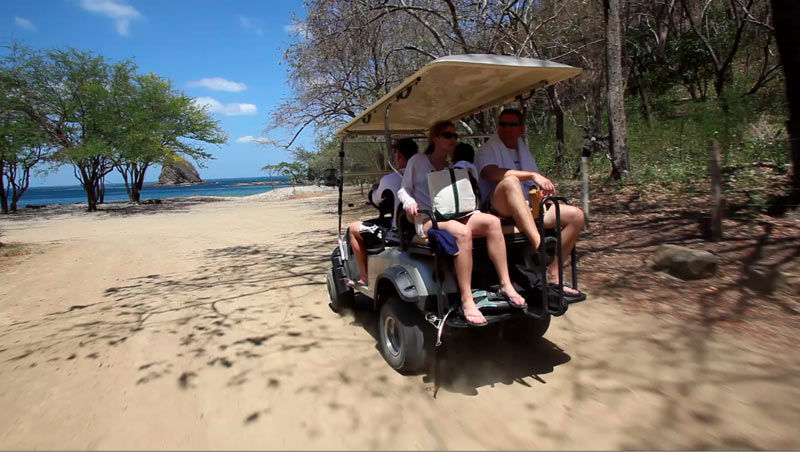 Day Seven Friday, March 5th: EnjoyRecreo! Let our horses do all the work as you ride through the trails at Recreo. Take a break and have lunch at Eco Playa on the beach. Ride the horses back to the resort and stop at the beaches along the way. Relax by the pool and have a massage or visit the Mountain Top to talk about the day's activities.
Day Eight Saturday, March 6th: Returning Home. Spend the morning relaxing. Your personal chauffeur will greet you mid‐morning to bring you to the airport and to assist you with your luggage and checking in for your flight.
Expenses Week Two:
Based on the above itinerary, the cost of the Ocean, Lake and River Adventure Package is $1,980 per person plus tax for 7 nights/8 days. Bring your nonkiting friends or family for $1,150 per person plus tax for Week Two. Combine both the Discover Package Week One and Week Two for just $3,150 per person plus tax. Both weeks include accommodations, daily maid service and cook, access to all amenities at Recreo, such as the tennis courts, kayaks, horses, snorkeling, mountain bikes, use of the golf cart, or fishing poles. This vacation package also provides you with all meals, wine and beer with dinner, non alcoholic beverages of your choice and round trip transportation.
"Pura Vida"

Additional Expenses off Site:
Flight arrangements Adventure tours: $90+ depending on tour Boat Tour $250 half day, $450 full day Spa Treatments: $25.00 to $120.00 depending on treatment. Mixed drinks and cocktails Gratuities
Spa Treatments: $60.00 to $100.00 depending on treatment.
Airfare:
We recommend you choose the Liberia airport (LIR) as this is the closest to the resort. Delta, American, and Continental Airlines have flights to Liberia, Costa Rica on a daily basis. Cost will average between $300 to $700 depending on the season.
For further information please email info@recreocostarica.com or for reservations please call your personal travel concierge at 877.268.2911. Please use promotional code when booking: WWW1 for the one week package, WWW2 for the second week package, and WWB2 for two weeks.