KITEBAR: B-SAFE BAR Details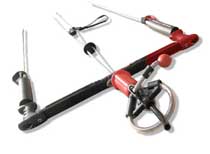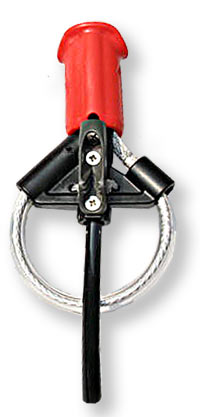 The B-Safe Basic bar is the most cost efficient, effective and sensible bar to master a Windwing kite. Available in 3 sizes: 45cm, 50cm, and 56cm, the bar is simple and clean in design, and features a tapered composite bar with raised EVA grip and the latest in Windwing Quick Release Safety System. The newly designed B-SafeRelease System is fool-proof, intuitive and solid. All parts are easily removable and replaceable. Fitted with the Windwing exclusive Stopper Bell, the B-Safe system is truly universal in design and easily transformed and fitted to other existing bars in the market.
All Windwing Kitebars come with 23m 4-color flying lines already installed on the bar when purchased with lines. Windwing flying lines are made from pre-stretched Spectra cord with Dyneema sleeving and are tension rated to 600lbs (270kg) per line. Color coding gives contrast for better visibility on water and snow and reduces possibility of cross-connection.
Sewn loop-sleeve sections are coated in heat-shrink clear tubing for easier de-tangling, and loops also have extra stitching at the top and bottom for added strength and durability. Replacement line sets are available in 20m, 23m, and 26m lengths. Bars purchased "bar only w/rigging" come as pictured (left) with leaders, c-loop assembly, sheet cleat and leash.
Download Instructions:


Complete User Manual for Windwing bar System


B-SAFE Bar Diagram
Leash & Loop